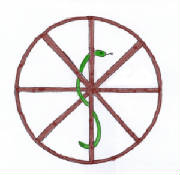 Reika/Ranya
TN
God/dess of the world, rules life, death and rebirth. She/he created all that is in the world, and to him/her life returns on death. She/he created the minor Gods to watch over her/his children in times of need.
Alignment: worshippers can be of any good alignment, her priests any neutral alignment.
Min Ability score: wisdom 10, 10% bonus for wis 16 or higher.
Races: any
Gender: any
Non-weapon Proficiencies: Required: religion
Recommended: read/write, herbalism, animal handling (snakes in particular)
Duties of Priesthood: guidance, marriage, ceremonies of equinoxes and moon phases, death, vigiliance against evil and despoilers of nature.
Weapons Limited to: dagger/dirk, knife, scythe, sickle, net/snare
Restrictions: vegatarian unless vegetables are scarce (may add fish and fowl), Red meat on special occaisions (at particular rituals).
Spheres of influence: all, divination, healing, necromantic(no resurrection), plant, summoning, weather MINOR: charm, animal, creation, elemental, protection, sun.
Granted powers: turn undead, laying of hands as paladin of same level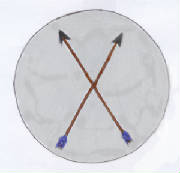 Olanna
NG
Goddess of animals and hunting, the twin sister of Ouhma. They are the oldest of Ranya/Reika's children.
Alignment: Worshippers can be of any non-evil alignment, but priests must be any Neutral.
Minimum Ability score: Wisdom 9, Charisma 13 either 16+ 5%bonus, both 16+ 10% bonus
Races: any
Gender: any
Non-weapon proficiencies: Required: animal handling, animal training
Recommended: Riding, read/write, religion, animal lore, tracking
Duties: protection of animals against unnecessary death, fight against recreational hunters or those who threaten the survival of a "natural" species.
Weapons limited to: dagger/dirk, knife, bow, quarterstaff, sword (short/long/rapier)
NO METAL ARMOR AND NO SHIELDS
Restrictions: one weapon MUST be a bow as it is the primary choice of the Goddess
Sphere of influence:all, charm, plant, animal, protection MINOR: combat, healing
Granted Powers: lvl 4) talk with animals (3 species), lvl 8) ignore range modifier when using bow to 500 yards.
Rangers:+2 to hit/dmg with bow