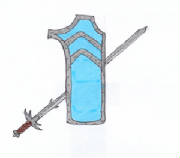 Chynar
TN
Goddess of war
Alignment: Worshippers may be any alignment, priests any non-lawful.
Minimum Ability scores: wisdom 9, strength 13 either 16+ 5% bonus, both 16+ 10% bonus
Races: all
Gender: all
Non-Weapon Proficiencies: Required: blind-fighting
Recommended: animal training, heraldry, riding land based, healing, read/write, religion, armorer, bowyer-fletcher, charioteer, hunting, running, tracking
Duties: guidance, marriage, training warriors.
Weapons limited to: battle axe, bows (all), dagger/dirk, knife, lance, mace, maul, polearms, spear, swords (all), war hammer.
ALL ARMOR AND SHIELDS ALLOWED
Restrictions: Choose one weapon and specialize in as normal.
Spheres of Influence: all, combat, healing, MINOR: necromantic, protection
Granted Powers: incite beserker rage, 5th) inspire fear
Fighters/Paladins: Rage 1x/day does double damage and grants+2 to hit / 6 rounds.